A Close Look At Rosacea
Do you experience persistent facial redness or flushing and blushing? If so, you're not alone. April is Rosacea Awareness Month, and this condition affects 45 million people worldwide. But despite being so common, the root cause of rosacea remains unknown.
Rosacea is a chronic skin condition that is exacerbated by environmental triggers. Insults such as UV exposure, extreme weather, spicy foods, alcohol, and stress prompt the inflammation cascade that causes surface blood vessels to dilate, leading to visible redness and discomfort. Since rosacea can vary in severity, many cases of rosacea go untreated.
The key to controlling rosacea is avoiding and treating the triggers that stimulate nerve endings and lead to the flushing and discomfort. Anti-inflammatory skincare ingredients can ease the visible symptoms, and prescription topical medications, antibiotics, and tremens such as Intense Plus LIght (IPL) can also improve the condition.
[hr]
The Solution For Redness: SkinCeuticals Redness Neutralizer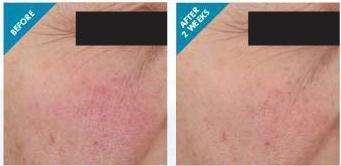 Formulated with a patent-pending NeuroMed Complex, SkinCeuticals Redness Neutralizer prevents and controls the inflamation cascade that causes visible rosacea symptoms, and reduces flushing and redness by 30%.  The result is visible improvement in redness, as well as significant relief from irritation and discomfort.
[hr]
C E Ferulic + Redness Neutralizer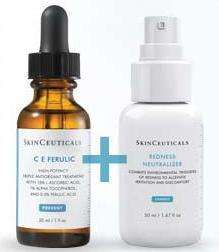 C E Ferulic works in tandem with Redness Neutralizer to further prevent the inflammation cascade that causes rosacea symptoms. This topical antioxidant neutralizes the reactive oxygen species (otherwise known as free radicals) that create inflammation and damage within skin. The blend of pure stabilized 15% vitamin C, vitamin E, and ferulic acid has been proven to prevent signs of premature aging and protect against redness caused by exposure to UV light, which is one of the main rosacea triggers.
C E Ferulic is the prefect anti-aging product for rosacea skin. This serum's simple formula contains non-irritating ingredients that replenish the skin's lipids and increases collagen synthesis to reduce the appearance of fine lines and wrinkles.
[hr]
Dr. Ava Shamban On Redness Neutralizer
"SkinCeuticals Redness Neutralizer is a potent and effective weapon against flushing seen in rosacea. The key ingredient is the NeuroMed Complex which is composed of potent anti-inflammatory and antioxidant ingredients. This product strengthens the skin's barrier, improves its moisture content, and cools skin temperature, resulting in an effective over-the-counter product for treatment of the redness associated with rosacea."
Dr. AVA Shamban
Santa Monica, CA | Beverly Hills, CA
Vanity Fair, April 2012
[hr]
Professional Procedure: IPL (Intense Pulse Light)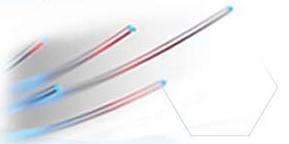 Rosacea can be successfully treated with office-based IPL treatments. This procedure uses short bursts of high-intensity light to break up the melanin that causes brown discoloration as well as repair broken capillaries, which lead to the visible redness associated with rosacea. Most patients say that IPL treatments feel like a series of rubber ban snaps. The skin may be temporarily red after these treatments.